One Lucky Military Veteran Will Win A
Free Franchise License
and Become the Next PJ's Coffee Franchisee!
Do you love coffee? Are you a passionate and motivated veteran looking to start a rewarding new career path? This is the perfect time. We are looking for entrepreneurs to join our winning team. PJ's Coffee may just be what you are looking for, let us help you become a business owner.
How to Enter the 2023 Veterans Franchise Giveaway:
Fill out the form on the bottom of this page to receive a Franchise Brochure

Film a 1-2 minute video about how your military experience will make you a hard-charging PJ's franchisee
The Deadline to enter is September 4th, 2023. The winner will be announced November 11th, 2023. If you have any questions, feel free to call us at (985) 718-1404 during business hours.
Every Military Veteran Receives 20% Off The Franchise Fee
Previous PJ's Veteran Incentive Winners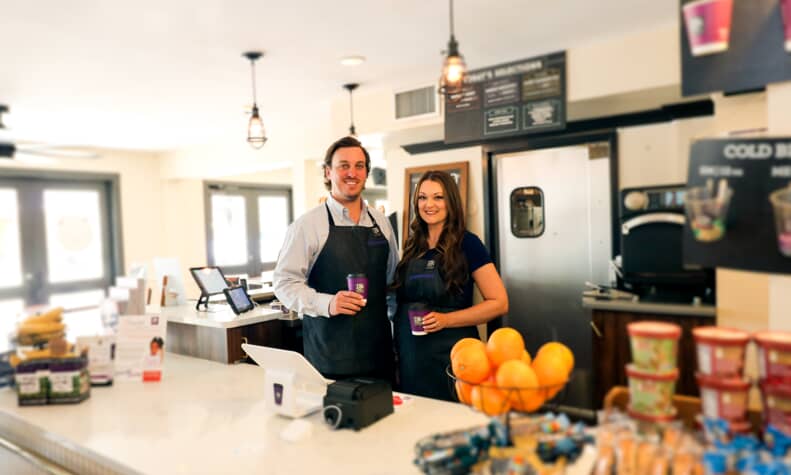 Kyle McElhaney
Kyle ​McElhaney earned a ​bachelor's degree in Accountancy from Ole Miss and a Masters in Entrepreneurship from Oklahoma State University. Kyle went on to spend 8 ½ years as an active-duty Army Officer where he flew Apache Attack Helicopters. He deployed to Afghanistan in 2010 where he earned an Air Medal and supported Special Forces on high profile missions. Kyle continued his career by planning large aviation missions and completed his military career in charge of all of Army recruiting in Northern Kansas. This experience, matched with an entrepreneurial spirit, enhanced Kyle's talent for operational planning, employee empowerment, and delegation. Kyle and his wife, Jenn love the opportunity and challenge to empower others. This has attracted a team of professionals to their businesses while also instilling a success-oriented culture in their businesses and in their family. With a strong desire to create a legacy of success for their kids, Kyle and Jenn have created business foundations and both look forward to building generational change for their family.
Angela Harmon
Angela grew up in east Tennessee from a small town in the Smoky Mountains. Part of a non-military family, Angela was the first to go to college and was in the 5th class of women that entered the Air force academy. She enjoyed a great career in the Air force as a pilot. Angela flew KC-135's as a captain at Pease AFB in New Hampshire as part of SAC (strategic air command). She was also a T38 instructor at Columbus Air force Base in Mississippi. The military was challenging especially being a woman and at that time, women could not fight in combat. When Angela flew as a T38 instructor (the fastest airplane you could fly at the time), it was a huge honor as a woman. Now she has moved on in her career and found PJ's Coffee. Recognized as a family-oriented company, Angela believes PJ's shares many of her values. Angela and her wife, Denise are excited to give back to their community and begin their new venture as PJ's Coffee Franchisees.
Michael Adams
Michael Adams served his military career in the U.S. Army for 22 years with assignments in Iraq, Germany, Japan, Africa, and several locations in the United States. He completed his Master of Business Administration at Saint Leo University and graduated from several military training academies. Michael has been employed by the Federal Government for the past 14 years and looks forward to continuing to serve his community as a PJ's Coffee franchisee.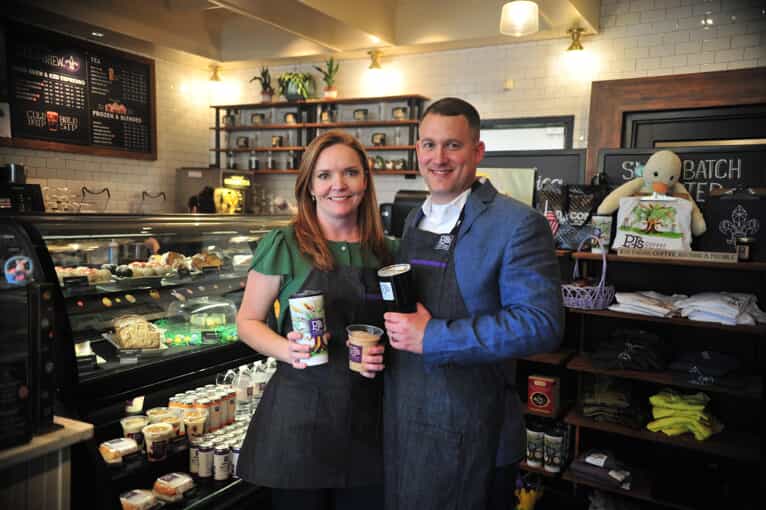 Bobby Mounts
Bobby Mounts served in the Marine Corps from 2002 to 2008 as an infantry rifleman and eventually became a Sergeant. During his service, he was deployed in Iraq in 2004. After serving, Bobby began working as a police officer for the Monroe Police Department and the West Monroe Police Department for the last nine years. Mounts was looking for his next adventure in pursuit of entrepreneurship and came across the PJ's Coffee franchise license giveaway. He saw it as the perfect opportunity to engage with the brand and open his own PJ's. Bobby and his wife, Kristy they have two children and reside in Ruston, LA where they currently operate their first PJ's Coffee Location.