PJ's Products
Always Fresh, from Farm to Cup
As a PJ's Coffee franchisee, you'll have access to our full line of specially crafted products. We take pride in utilizing only the top 1% of Arabica coffee beans and never keep our roasts on the shelf for more than 90 days. Our fresh, high-quality drinks are rooted in tradition and help us provide customers with the southern hospitality they can expect from a New Orleans experience.
PJ's works directly with the coffee farmers on the Finca Terrerito Farm in Honduras. Because there's no need for a middleman, we're able to pay our farmers 50% more than the average rate. We're recognized for supporting sustainability from farm to cup and sharing our gourmet coffee with customers around the world.
From classic drinks to modern favorites, our line of coffee products is something to savor. Take a look at the specially crafted drinks you'll get to serve at your store.
Espresso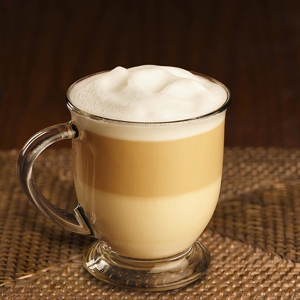 Originally introduced in Italy in the mid-to-late 1800s, espresso is made by forcing very hot water under high pressure through finely ground, compacted coffee beans, which produces a thicker, stronger coffee product.

Espresso is known for both its powerful taste and its "crema," a coffee foam on top that has a creamy consistency. The coffee beans used in espresso tend to be a darker roast. PJ's roasts an Espresso Dolce, a blend of Central and South American beans. This combination produces a coffee that is sweet and smooth yet strong and quaint, with a deep chocolate flavor that lingers on the palate. We use this roast and method of brewing to make a majority of our lattes, cappuccinos, traditional macchiatos, and, of course, our carefully drawn espresso shots.
Hot Brew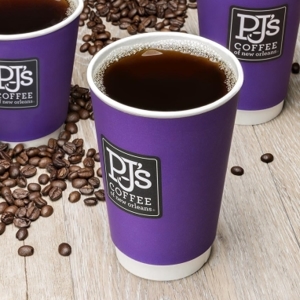 PJ's Coffee utilizes only the top 1% of specialty Arabica beans, sourcing 14 origin coffees from Ethiopia to Honduras, Colombia to Nicaragua. This gourmet coffee is small batch roasted in 300lbs or less by Roastmaster Felton Jones, who alone has over 25 years of experience with PJ's Coffee.

Never over roasted, our Dark Roast coffees are always smooth tasting with a clean finish. No bitter aftertaste. From our signature Espresso Dolce to our Direct Trade Finca Terrerito French Roast, our portfolio of Dark Roast selections are made from the finest selections in the world.

Our Medium Roast process allows the coffee bean to display its individual characteristics. Medium to high acidity, making for a bright cup of coffee. Our Ethiopia Yirgacheffe offers a sweet, fruity aroma with delicate floral notes and our Colombia Supremo delivers a flavorful, medium-bodied coffee with a sweet, nut-like aroma.

PJ's flavored coffee is a year-round tradition. As the season's change, so do our flavored coffee selections. Enjoy old favorites and taste new offerings throughout the year. Enjoy old favorites and taste new offerings throughout the year from King Cake to Southern Pecan. To create our signature flavored coffees, we coat Medium Roast beans with unique and aromatic flavors following the roasting process.
Nothing is allowed to interfere with the perfect flavor of PJ's Coffee. This is why our Decaf process removes 99.5% of the caffeine while preserving more of the natural flavor than other commonly used processes.
The Original Cold Brew Iced Coffee™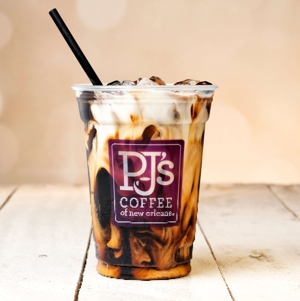 PJ's native home of New Orleans, Louisiana, is also home to many eclectic originals. It's the birthplace of jazz music, Mardi Gras Indians, Creole cooking, second line parades, and, happily, PJ's Original Cold Brew.

Phyllis Jordan, our founder and a true pioneer in the coffee industry, perfected the cold-drip process that we have utilized for more than four decades. First, we steep our premium, coarsely-ground coffee beans in water for 24 hours. We follow this by carefully draining out the silky smooth, concentrated coffee, which we use in many of our iced coffee beverages.

The cold brew is made using a simple method that relies on time instead of heat, which generates an extremely full-bodied, deliciously pure coffee that is 67% less acidic than hot-brewed coffee.

In addition to being a key ingredient in our delicious Granita beverages, our signature cold brew is the tie that binds our iced coffees, Vienna Cremes, and iced mocha coffees together. Our special proprietary method of preparation and delivery is so uniquely PJ's, we have trademarked it as The Original Cold Brew Iced Coffee™.
Granitas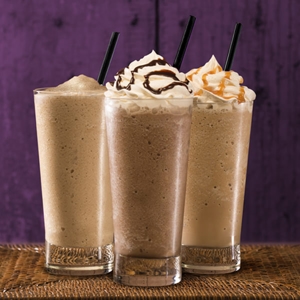 Born centuries ago in Italy, the granita is the quintessential semi-frozen coffee or fruit drink. The PJ's Granita, however, is anything but ordinary among the busy landscape of frozen café beverages.

Our crystalline coffee concoction begins with the coarse grounds of our exquisite Espresso Dolce coffee. This blend is steeped for 24 hours, then cold-dripped and sweetened with a proprietary mixture of milk, sugar, and the slightest bit of pure vanilla extract. We then bring this mixture within degrees of freezing before carefully serving it from our iconic Granita machines on the PJ's premises. All-natural flavored syrups can be hand-mixed into our Granitas upon request. PJ's offers an array of mouth-watering and delicious blends such as caramel, mocha, white chocolate mocha, and more.
Velvet Ices
If you are searching for a distinctive, delightful break from the ordinary, then PJ's Velvet Ice will be the welcome departure you are looking for in a beverage. For over 20 years, our Velvet Ices have come in a number of varieties, including our two signature flavors – mocha and vanilla.

These carefully crafted beverages are hand-made with our Cold Brew Espresso Dolce concentrate, all-natural Ghirardelli chocolate powders, fresh milk, and ice. These ingredients are all blended together to create a velvety-smooth treat, perfect for hot summers or for indulging yourself after a hard day's work.

As recently as a few years ago, PJ's added regional, healthy alternatives such as the Chai Velvet Ice, made with delicious spiced Indian Chai, and the Green Tea Velvet Ice, blended expertly with the best matcha powder. These specialty coffee products are another way to give our customers the variety they desire.
Eat Fit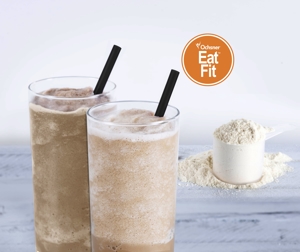 PJ's native home of New Orleans, Louisiana, is also home to many eclectic In collaboration with registered dietitians of Ochsner Eat Fit, PJ's Coffee created healthy lifestyle alternatives throughout our entire beverage portfolio. Now, customers have the option to make their favorite beverages Eat Fit approved: No added sugar for coffee & tea drinks, less than 1 teaspoon added sugar in smoothie and blended coffee drinks, and fat-free milk in place of 2% or whole milk.


Increasingly, it's what you want… and with our hot coffees, PJ's Original Cold BrewTM, iced coffee, iced and hot teas, low-fat lattes, and sugar-free syrup options, PJ's Coffee allows customers to indulge without the guilt.

Our most popular Eat Fit addition is the Protein Velvet Ice. Blended into a velvety-smooth concoction made from our homemade, ultra-low-calorie Original Cold BrewTM Iced Coffee concentrate, fat-free milk, and EAS Whey Protein Concentrate, PJ's Protein Velvet Ice is a delicious, healthful complement for the mover-and-shaker lifestyle that many customers embody and enjoy. Whey Protein is a high-quality complete protein that can help boost alertness, curb hunger and support goals of getting leaner, building muscle and strength, and enhancing muscle recovery post-workout, making it an ideal addition to any pre or post workout beverage. Incorporating protein with a bit of caffeine before workouts can help enhance focus and performance, making this icy beverage perfect for athletes or those regularly hitting the gym.
Organic Teas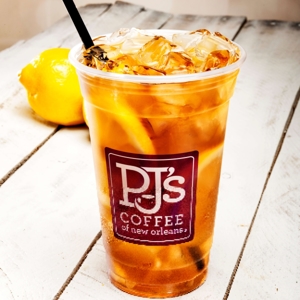 Originally named PJ's Coffee & Tea, it's no surprise that we strive to provide the best assortment of teas. From hot cups of traditional tea to refreshing iced teas, PJ's utilizes hand-crafted, artisan, organic teas from around the globe. PJ's also offers a special blend of Tea Mixers, wherein we take fresh fruit and hand mix them with our teas to bring our customers the most unique tea experience in Louisiana and beyond.



Food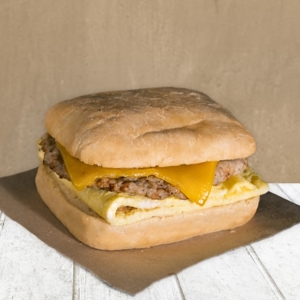 PJ's Coffee offers a variety of food options perfect for breakfast, lunch or an afternoon snack. From our freshly baked blueberry muffins and mouthwatering cinnamon rolls, to our protein-packed breakfast sandwiches with applewood bacon, egg whites and cheddar cheese, PJ's Coffee has something for everyone.

PJ's is proud to serve a variety of muffins, scones, croissants, bagels, coffee cakes, cookies, breakfast sandwiches, oatmeal, desserts, yogurt parfaits, fresh fruit, salads, wraps, sandwiches, and more.