New Orleans Beignets
A True Differentiator of Our Coffee Franchise
PJ's Coffee is committed to developing programs that will make our franchisees successful and our company is deeply rooted in New Orleans culture. For these two reasons, it should come as no surprise that many of our locations now offer our New Orleans Beignets. These deep-fried pastries are often enjoyed all day in New Orleans and are traditionally served warm and fresh – and are the perfect pairing for our coffee. Since we first started offering them in our stores, they have become wildly popular and have contributed to a significant increase in profits for many of our owners.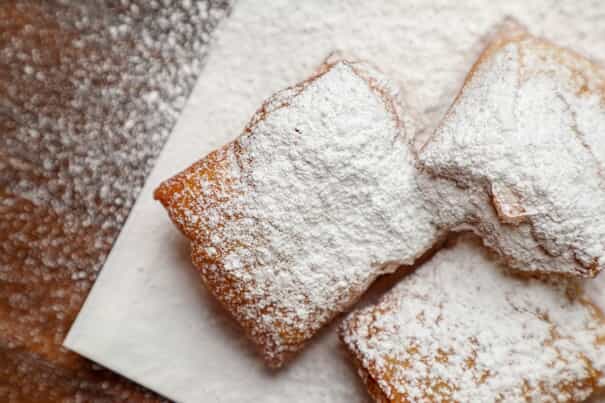 Having beignets on our menus is a huge differentiator for our company, as no other coffee franchise is currently offering this delicious option. Additionally, beignets have very strong profit margins and require little equipment to prepare. PJ's is so excited to introduce our customers and franchisees to this unique option that will keep our consumers coming back for more!
What Is a Beignet?
Many customers and owners alike have never tried - or even heard of - a beignet, which is exactly why we are so excited to offer them in our coffee shops! These deep-fried pastries originated in France and were brought to New Orleans in the 18th century, where they have become a staple of bakeries and dessert shops. They are incredibly popular in New Orleans but aren't frequently found outside the city, which provides a unique opportunity for our company to introduce them to the masses.
Dedicated to Delivering Quality Products
Our New Orleans Beignets are an exciting addition to our menu of quality food and beverage offerings. As one of our coffee shop franchisees, you'll be able to offer your customers a wide selection of options fit for every taste and lifestyle.
Some of our other offerings include:
Espresso based beverages
Velvet Ice blended beverages
Fresh baked pastries
Breakfast & lunch sandwiches
Grab & Go Items
PJ's isn't "just another coffee shop." We provide an experience and build lasting relationships with our guests. When you join our coffee franchise, you will be bringing the experience of quality, flavor, and hospitality into your local community.
Learn more about all of our products or fill out our contact form to begin your journey with us!