The Story Behind PJ's Coffee
By: PJ's Coffee
New Orleans has had a strong, rich and deep tradition of coffee for hundreds of years. Coffee was first introduced to New Orleans by French explorers in 1720. It became the port of choice for Latin American coffee planters in the 19th and 20th centuries. Coffee brands, companies, roasters and distributors flocked to New Orleans, creating the signature coffee stands and blends that are still characteristic of the city. With such a rich history, it's no surprise Phyllis Jordan decided to start her coffee shop in the vibrant Louisiana city.
The Making of an International Brand
Phyllis Jordan moved to New Orleans in 1977 from Des Moines, Iowa. One of her friends owned a bookstore and coffee shop there, and Phyllis enjoyed the opportunity to visit and catch up with her friend every day in her shop. With a background in social work, Phyllis appreciated the open atmosphere that allowed people to meet up and converse regularly. She decided to open up her own coffee house in September 1978 – starting her namesake PJ's Coffee.
In just 10 years, PJ's Coffee expanded from a single shop in the Carrolton neighborhood to locations throughout New Orleans. They continued to grow in the following years, expanding in to a franchise with over 90 nationwide locations today. In 2008, PJ's was purchased by New Orleans natives and brothers Paul, Steven and Scott Ballard of Ballard Brands. They have a restaurant portfolio of various brands, with nearly 150 locations throughout the United States, but have stayed rooted to New Orleans and the soul of coffee.
​
PJ's Coffee's Commitment to Quality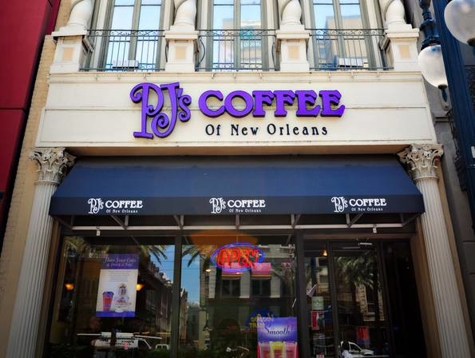 ​PJ's Coffee continues to use only the top 1 percent of premium Arabica beans, sourced from around the world. Their employees travel the globe to hand-select the best coffee beans from Ethiopia to Honduras. The beans are plucked at peak ripeness, transported to mills and hand-sorted before being shipped to PJ's Coffee roasting facility located blocks from the French Quarter. PJ's Coffee was a pioneer of cold brew coffee – a growing trend in the coffee industry – and ensure the utmost quality by brewing their coffee daily, using a special cold-drip process. This process protects the flavor and strength of the beans, while producing a coffee that is two-thirds less acidic than regular coffee – a process established by Phyllis in her earliest days at the coffee shop.
With a nationwide and globally-recognized brand under her belt, Phyllis is now enjoying her retirement and the downtime she has never really been accustomed to. After selling the business, she became president of the board of The Green Project, a non-profit committed to environmental sustainability. The values of protecting the environment are seen throughout all PJ's Coffee coffeehouses and in the careful process by which they source their beans. Phyllis now spends her days traveling, enjoying the company of friends and family and tending to her garden – some well-deserved time to relax after creating one of the biggest names in coffee today.
If you're interested in becoming part of a global coffee empire that is still rooted in the neighborhood where it was built, download our franchise brochure today.