PJ's Coffee Announces Second Annual Veteran Franchise License Giveaway Recipient
By: PJ's Coffee
After years of following orders in the U.S. Marine Corps and two different police departments in Louisiana, Bobby Mounts was ready to be his own boss. Franchising, where he could call the shots in his own store while still receiving support, appealed to him. He went with home state-favorite PJ's Coffee.
Or, rather, we went with Bobby. He is the latest veteran with entrepreneurial goals to be awarded a franchise in our annual Veteran Franchise License Giveaway.
Bobby served in the infantry of the Marine Corp reserves for six years, between 2002 and 2008, as a rifleman. He was deployed to Iraq in 2004. When he left the service, he had reached the rank of sergeant.
"My two dreams as a kid was to be a marine and to be a police officer," Bobby said.
To realize the second part of his dream, he served as a police officer in Monroe, and later West Monroe. But, as he approached early retirement age, he began thinking about the next chapter in his career. After researching several franchise concepts, Bobby decided he wanted pursue PJ's Coffee ownership. After conducting extensive research and speaking with PJ's franchise owners, he knew he made the right decision.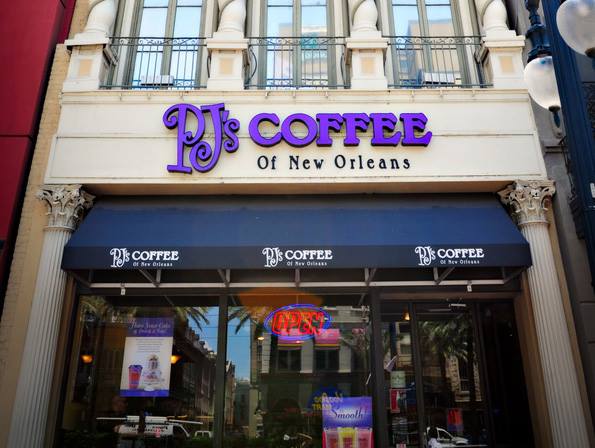 ​
As Bobby was taking steps to become a franchise owner, he learned of the PJ's Coffee Veteran Franchise License Giveaway. He entered the contest by sharing his contact information with the brand and submitting the requisite one-minute video explaining how his military experience prepared him to be a PJ's Coffee owner. Impressed by Bobby's video and his service record, we awarded him the franchise, waiving the $30,000 franchise fee.
"I have always wanted to pursue entrepreneurship and I couldn't be more thrilled and humbled to do so through PJ's Coffee," Bobby said. "I am incredibly fortunate to have been awarded this opportunity and I am committed to paying it forward to other men and women who serve our communities and country. Policeman, fireman, and military personnel are all truly inspiring individuals who devote their lives to serving others and I look forward to welcoming them in my doors. This community has been my home for nearly two decades and I'm excited to bring PJ's Coffee to the neighborhood."
Bobby will open his first PJ's Coffee shop in Ruston, La., at the end of this year or early 2020.
PJ's Gives Back to Veterans with Giveaway
At PJ's Coffee, we like to thank our military veterans for their service and sacrifice by helping make their dream of business ownership a reality.
We launched our Veteran Franchise License Giveaway in 2017 as a way to thank and honor our veterans, as well as offer them the opportunity to run a successful coffee shop with a proven model by providing a free franchise license. Interested veterans enter their contact information and submit a one-minute video explaining how their military service makes them an ideal PJ's Coffee owner. After we review all submissions, we make the difficult decision for whom to waive the franchise fee.
"We're thrilled to have Bobby come on as our second Veteran Franchise License Giveaway recipient," said David Mesa, chief development officer of PJ's Coffee. "We've witnessed our first veteran recipient of the award, also a former Marine, become a successful franchise owner, and we're confident Bobby will, too. It's rewarding for us to see this annual giveaway empower veterans to embrace their entrepreneurial spirit and we look forward to many more in the future."

​
Because we love our veterans, we support them in other ways, too. For example, we are an International Franchise Association VetFran member, and offer a year-round 20 percent discount on the initial franchise fee for veterans. But, our annual giveaway serves as a unique and wonderful way to help veterans like Bobby pursue their dream of business ownership for no upfront cost.
Are you interested in a franchise that's committed to our country's veterans and giving back to the community? Contact us today to learn more about franchise opportunities with PJ's Coffee.