Why Coffee Franchises Have the Most Loyal Customers
By: PJ's Coffee
Brand loyalty can be defined as a customer's dedication to a particular brand they've discovered that entirely meets their needs.
Every brand aims to gain a loyal following, but brand loyalty doesn't happen overnight and takes time to develop. Any given brand attracts devoted customers by creating an experience that solidifies positive memories and sentiments toward their chosen brand. Once a brand has established loyalty in just one customer, that loyal customer sticks with you through thick and thin.
It's fair to assume most U.S. coffee drinkers remain loyal to the coffee brand or shop they frequent the most. Coffee is a habit most partake in daily, so customers quickly understand what they want out of their coffee drink of choice and where to get it. The question that stands is: what keeps PJ's Coffee franchise customers returning consistently?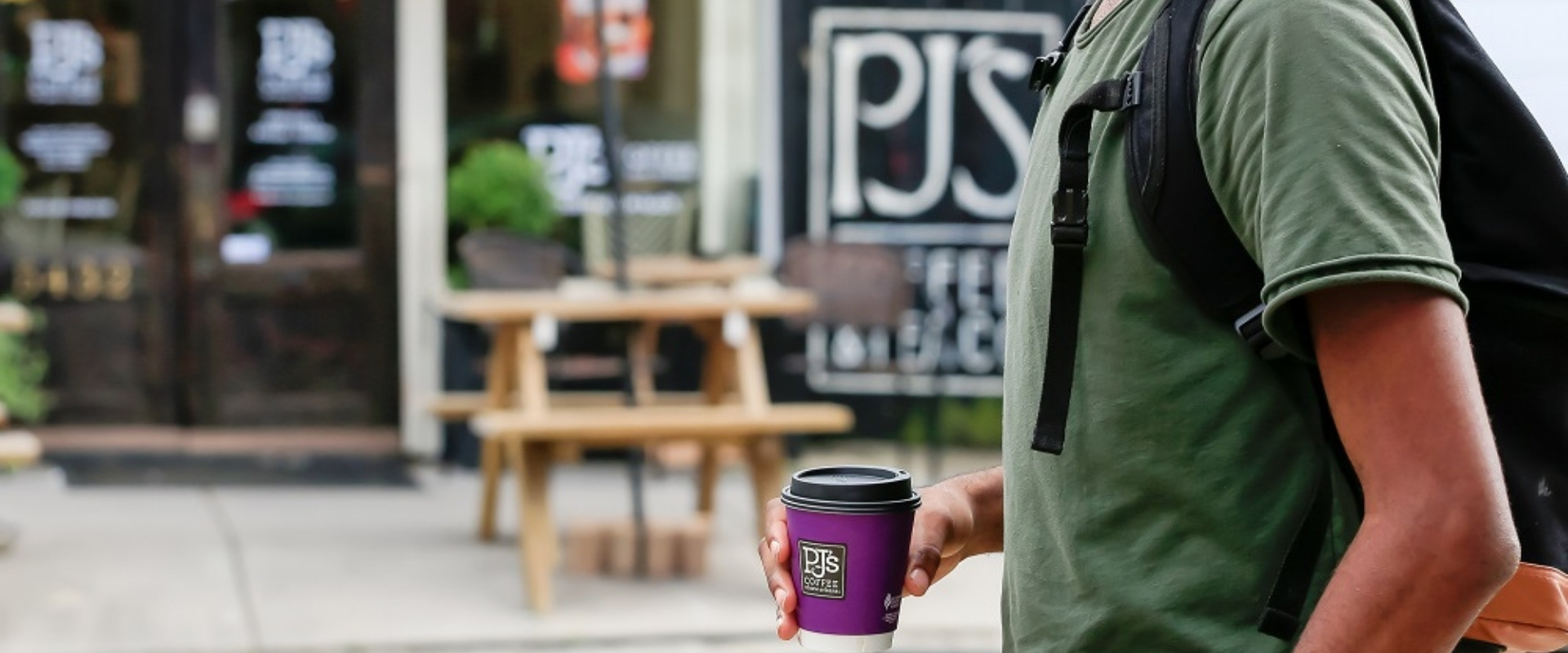 Fast, Easy & Efficient
While life can be more fast-paced for some, our mobile app is a convenient way to get customers in and out promptly. Aside from the mobile order option, which allows customers to customize their drinks and pay directly from their phone without waiting in line, the PJ's app gives customers access to exclusive offers all year round.
When signing up for the app, they'll receive a free PJ's Coffee beverage of their choice and get access to other deals and freebies throughout the year. The cherry on top for downloading the app is our reward perks, which gifts one star for every $0.75 spent. Once they earn 100 stars, they'll receive a free PJ's Coffee beverage!
A Family Brand
Despite the fact our coffee shop franchise has 135 locations operating nationally and internationally, we still operate as a family business—and each franchise and franchisee is a member of our family. It's important to our growth that we bring that sense of loyalty to the people that have made it possible for PJ's Coffee to enjoy the brand loyalty we experience today. With a long-standing tradition of involvement in the communities they serve, our franchisees, baristas, managers, corporate employees and families unite to support their communities and causes that are near and dear to their hearts. With this mentality, customers feel welcomed and loved when walking into one of our locations, which creates our loyal customer base.
Strong Brands Create Strong Bonds
In a 2020 study by the Ceuta Group, 80 percent of people who frequent coffee shops do so weekly, and 16 percent come back every day. In other words, people who find a coffee shop they like will come back for more. Gen Z and Millenials are the most likely to go to a brick and mortar coffee shop rather than make coffee at home, despite the impact of the pandemic.
With this customer retention, these brands can increase profits, costing a company less money to keep a loyal customer than attracting new ones. While frequent customers often return to a coffee chain for affordability, accessibility and convenience, consumers also like to see individuality in a market saturated with similar products.
At PJ's, each coffee shop franchise is individual to the franchisee(s) to make it feel more like home. Additionally, our menu is consistently changing with new and unique limited-time beverages, such as the Peppermint Bark Velvet Ice and Butter Rum Latte on our holiday menu–recipes that you can't find anywhere else!
Interested in becoming part of a coffee shop franchise that already has a loyal following of its own? Contact us today to learn more about PJ Coffee's brand loyalty and profitability.
$1,034,105*

Average Unit
Volume (AUV)

14.3%

Same-Store Sales Increase