PJ's Coffee Celebrates National Coffee Day
By: PJ's Coffee
We like to think of National Coffee Day as an everyday celebration at PJ's Coffee. Many of the reasons we celebrate coffee and its history correspond with the qualities that have made PJ's such a successful coffee shop franchise: our history in the coffee industry, our loyal customers, the sustainability of our company, and so much more. These are just some of the reasons the top quarter of PJ's franchises with a drive-thru made an average of $910,706* and had a 17.8% increase in same-store sales.
Customer Loyalty at PJ's Coffee Franchise is Unrivaled
One thing that makes the coffee industry so rewarding and worthy of celebrating is how loyal customers are—and PJ's Coffee customers are living proof of that. We established our coffee shop franchise as a family business, first and foremost, which extends beyond our franchisees to our customers.
PJ's Coffee franchisees establish themselves as the heart of their communities. During the pandemic, PJ's Coffee franchises became recognized by their guests as a respite, where they could still come to get their favorite coffee and treats. Furthermore, the addition of technological advancements such as our online and mobile ordering has made our coffee shop franchise an easy choice since well before the pandemic. Our franchisees' adaptability and responsiveness to their guests' needs have made our brand the go-to for many specialty coffee lovers.
National Coffee Day at PJ's Coffee Celebrates Sustainability
As consumers become more educated on the production process behind their favorite products, they've begun looking more closely at what goes on behind the scenes of brands. At PJ's Coffee, we've always been transparent about the care we put into every cup of coffee, and that extends all the way to the farms we've partnered with to grow the beans that our guests enjoy every day.
For us, part of genuinely celebrating National Coffee Day as one of the country's fastest-growing coffee shop franchises means setting an example in the industry. With a significant amount of customers willing to pay more for fair trade and sustainably produced products, investing in a business that has committed to an eco-conscious business model only makes sense.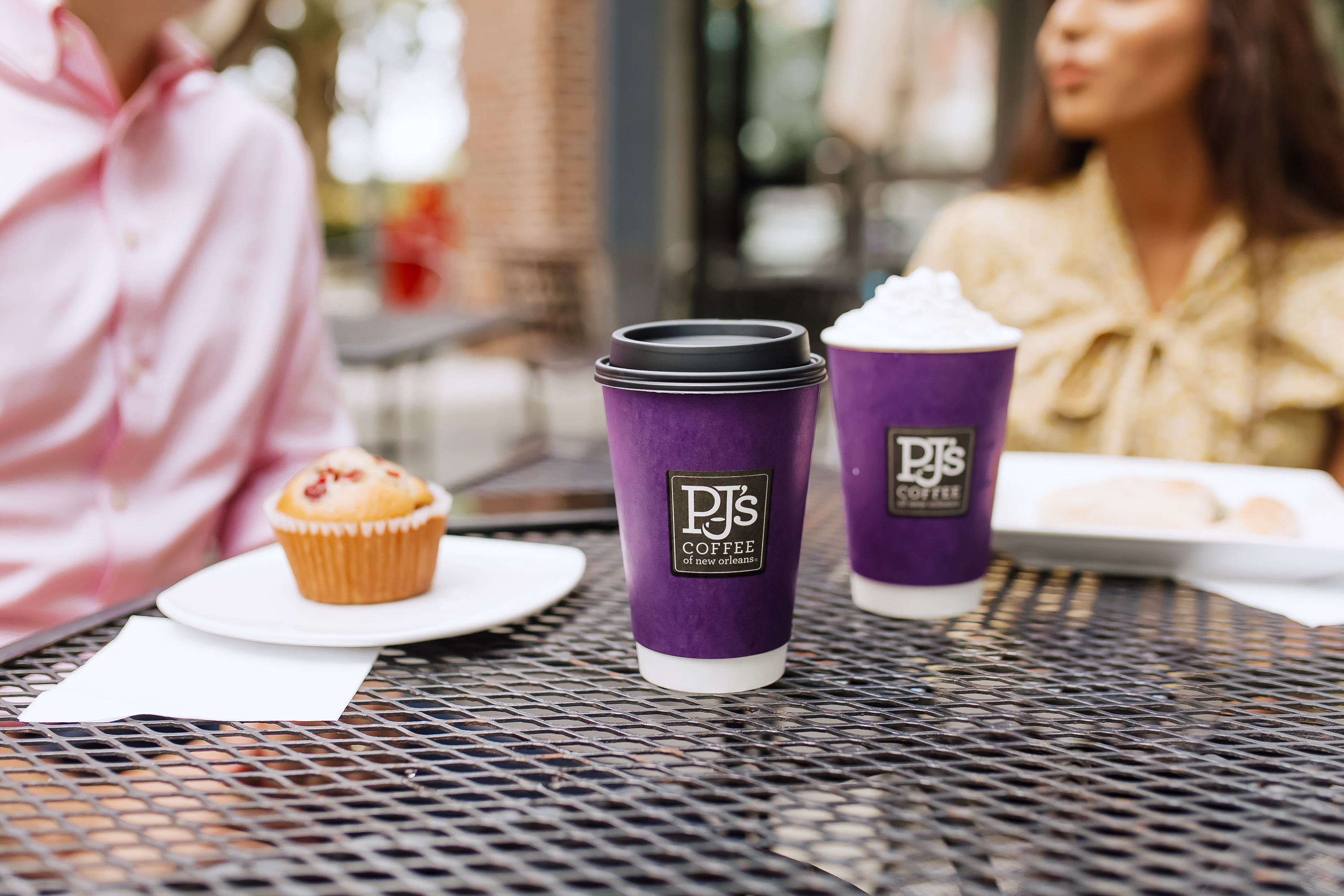 We Offer Peerless Franchisee Support
PJ's Coffee franchisees are our partners in success. Just as they've invested in our brand, we, in turn, invest in our franchisees by providing the kind of support that has earned us recognition on Franchise Business Review's Top-50 Franchise List for eight years consecutively. This recognition, given to brands based on franchisee-submitted surveys, is emblematic of the infrastructure of support only we can offer.
Our franchisees are proud to serve the top 1% of Arabica fresh coffee beans daily. And, as a brand, we are excited to extend a FREE 12oz cup of hot or cold brew on September 29th to anyone that places an order on the mobile app. Celebrate National Coffee Day the right way with PJ's Coffee of New Orleans!
Considering celebrating this National Coffee Day with a coffee shop of your own? Contact us today to learn more about opening a PJ's Coffee franchise in your community!
$1,034,105*

Average Unit
Volume (AUV)

14.3%

Same-Store Sales Increase