Honoring Our Veterans: Meet the Former Air Force Pilot Opening a PJ's Coffee Franchise
By: PJ's Coffee
At PJ's coffee, we believe in honoring those who have dedicated their lives to our country. That's why for the past four years, we have held our annual Veteran Franchise License Giveaway to award a much-deserving military veteran their very own PJ's Coffee franchise.
This year, we recognized former United States Air Force pilot Angela Harmon, who is getting ready to open her first PJ's location with her partner, Denise Goforth, in Colorado.
Life as a Woman in the Air Force
It was 1980 when Angela began at the U.S. Air Force Academy. Angela was in only the fifth class of women ever to graduate from the academy. Her graduation speaker, President Ronald Reagan, was getting ready for his second term in office. The country was in the midst of the Cold War when she began serving in 1984, and she explained how much of a different place the world was then.
"Women weren't in combat much at the time, and I saw the military as a great place to create structure and give me goals to strive for," Angela said. "You learn to work with people from all different places and walks of life."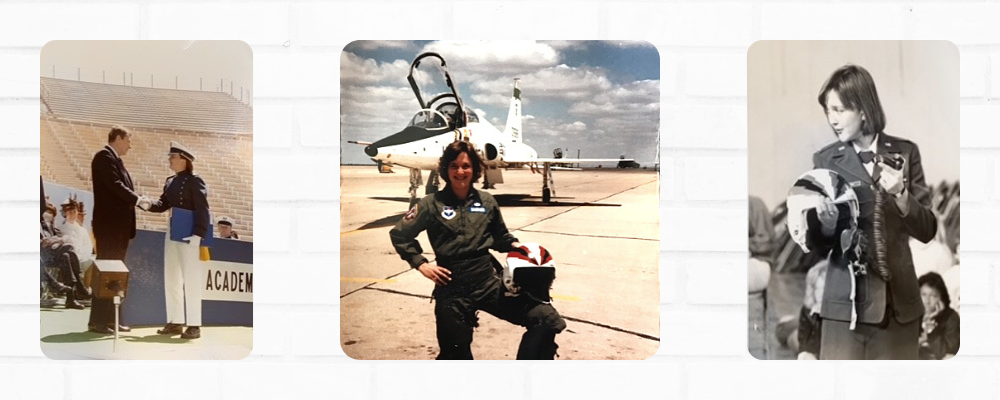 Angela recalls her time spent serving in Saudi Arabia, where she experienced how different it was for women there and how she transitioned to follow their common practices, including wearing all traditional coverings in public.
It wasn't until she began training in San Antonio to become an instructor on how to fly T-38 aircraft that she met Denise. The pair played rugby together and throughout Angela's time there, their relationship only grew stronger.
It was just after the Gulf War when Angela's time in the Air Force came to an end, and she knew it was time for her to start a new chapter.
From the Air Force to the Coffee House
Angela grew up in a hard-working household. Her parents had not gone to college, and her dad worked for himself for years.
"This sort of work ethic was definitely instilled in me, and they inspired me to use whatever skills I've been blessed with to do what I love," Angela explained.
Following her time in the military, she returned to school at DePaul University in Chicago to obtain her Master of Science in Finance. Since then, she has worked in banking, but she has always known that she wanted to do even more in her career.
Together, she and Denise decided to open up their very own business. They looked at several options, from private businesses to franchises.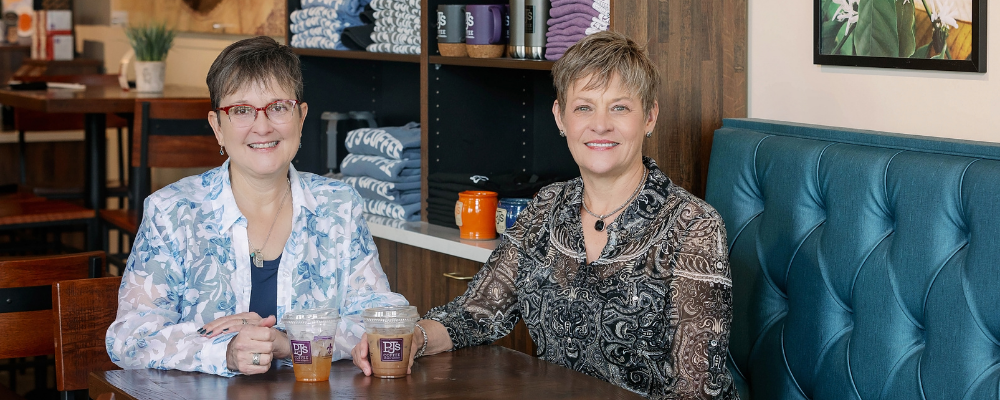 They had already been looking into PJ's Coffee prior to hearing about the Veteran Franchise License Giveaway. Because they loved the brand so much, they didn't think twice about entering, and before long, Angela received the surprise of a lifetime.
Getting Started with PJ's Coffee Franchise
The giveaway, which is open to all U.S. veterans and provides the winner a free franchise license valued at $35,000, came at just the right time for Angela.
"Since I had already been talking to them to learn more about opening a PJ's Coffee, I had a Zoom call set up with them," said Angela. "That's when they revealed that I was the big winner, and it was truly an amazing feeling."
Right off the bat, Angela could tell that PJ's was different from many other coffee franchises.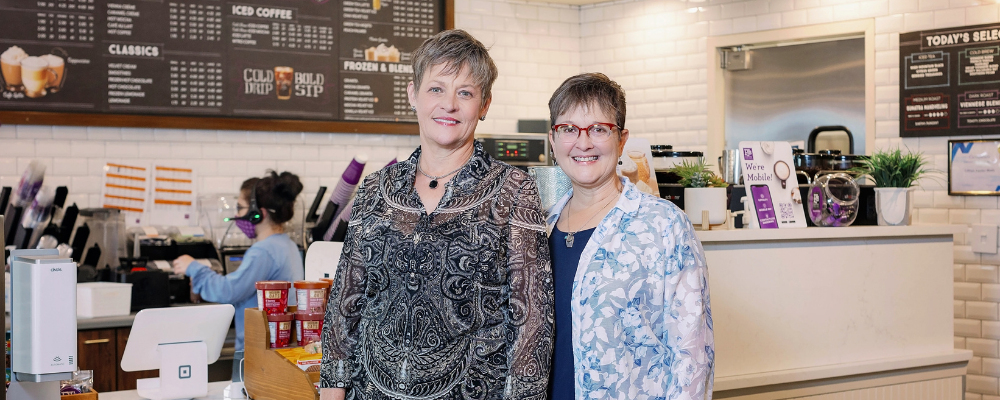 "We loved the products and the business model, and it all worked out so well. The ability to work with them is what sets them apart. They are very reasonable people and it's a solid company," she said. "When we went to meet the team, everyone was super kind and it was very apparent that they provide a ton of support to their franchisees. It's important to feel like you can always reach out to somebody when needed."
Angela and Denise are currently working on narrowing down a property where they will open their PJ's location. Denise, who has a background in sales and training, will apply her hands-on experience at their new business, while Angela will handle all the financial aspects.
What Lies Ahead
Once they are ready to open their doors to their new business, the lifelong friends look forward to getting involved with their community.
"It will be really great for us to go and meet people and create value within our community. People getting to know us and us getting to know them is mutually beneficial, and I believe it will be a large part of what sets us apart," Angela explained.
Are you looking for a franchise that honors the veterans who have sacrificed so much for our nation? PJ's Coffee offers all military veterans a 20% discount off the franchise fee. Contact us today to learn more about becoming a PJ's Coffee franchisee!
$1,034,105*

Average Unit
Volume (AUV)

14.3%

Same-Store Sales Increase