For this PJ's Coffee Franchisee, It's a Family Business
By: PJ's Coffee
Multi-unit PJ's Coffee owners Thomas and Robin Lewis have been a cornerstone in the LaPlace and Destrehan, Louisiana communities where their shops are located. They've been PJ's owners for 15 years, and for this husband-and-wife team, family has always been at the center of their business.
The pair decided to open a coffee shop when they realized there was no nearby coffee shop for their kids to hang out with friends.
"We had been thinking about opening up a business," Tom said. "My two children were in high school, and they were driving two hours away to Metairie to hang out at the coffee shop with their friends."
So, Tom and his wife began looking into opportunities to open their own coffee shop. They decided on PJ's because the product was superior to everything else they had found.
Taking the Leap into the Coffee Industry
Both Tom and Robin worked at Winn-Dixie stores prior to opening their first PJ's location, so they weren't strangers to working together. However, opening up their own coffee shop together was a whole new undertaking.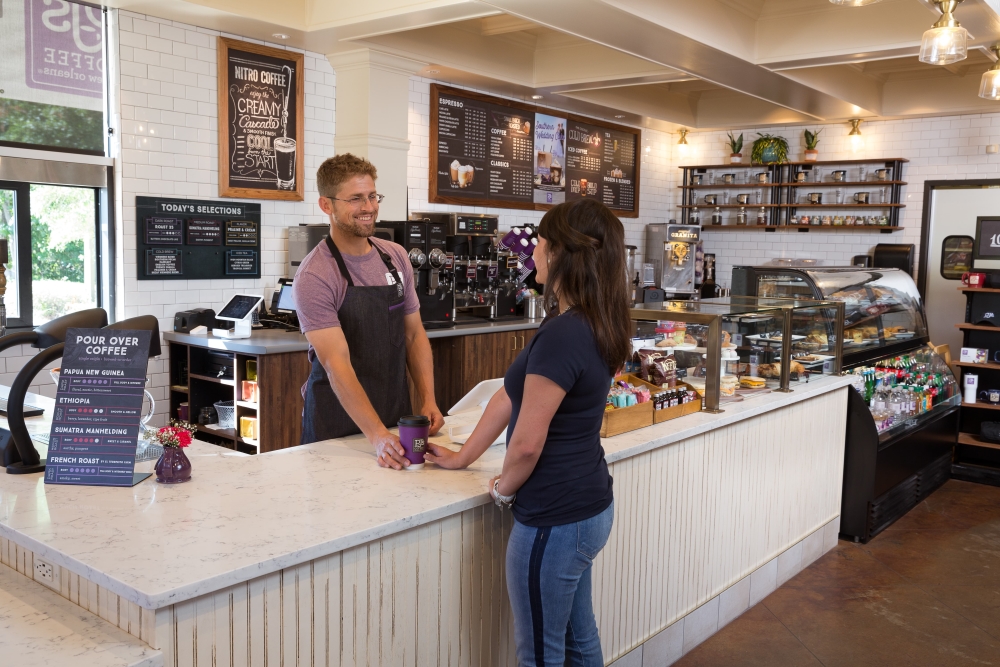 ​
While Tom and Robin had management experience, they did not have experience in the coffee industry. The two benefitted from PJ's Coffee's training system, which gave them all of the tools they needed to get their store up and running successfully.
"PJ's had a system in place for training on everything it takes to run the store," said Tom. "The support from the corporate team was great, and without any experience in the coffee industry at the time, we needed someone who would give us the support and training that we needed."
All in the Family Business
With their store set up for success, there were still many things the couple would learn about their business and each other along the way. While going into business with a spouse provides a strong foundation of trust, there was an adjustment period for Tom and Robin, as they identified each other's strengths.
"She has strengths in areas that I don't, and I have strengths in areas that she doesn't, so together we work really well in running the stores," said Tom. "If you're going in as a husband and wife team, you're going to have to work through the business to try and find where your niche is, as far as what your strengths are and what your partner's strengths are, to take those responsibilities on. My advice would be to have patience and take your time because everyone looks at things differently."
Tom's wife isn't the only family member who has worked in the family PJ's business. His daughter and son have also both worked at his stores.
"I had my daughter work at the store for a while as a manager, and it was great to have her there, because again, you've got somebody in there that you can trust," said Tom.
Living Room Away from Home
Another tip Tom and Robin have for those in business with their spouses?
"You have to learn to take a break. You can't bring business home with you all the time," said Robin. Tom agreed, "Yeah, you've got to leave it at the store." The family atmosphere Tom and Robin created for their employees is just one reason the pair is able to separate their work and home life. By nurturing their employees, they have built a supportive team that takes on more of the day-to-day responsibilities of the shop, freeing up some personal time for the Lewis family.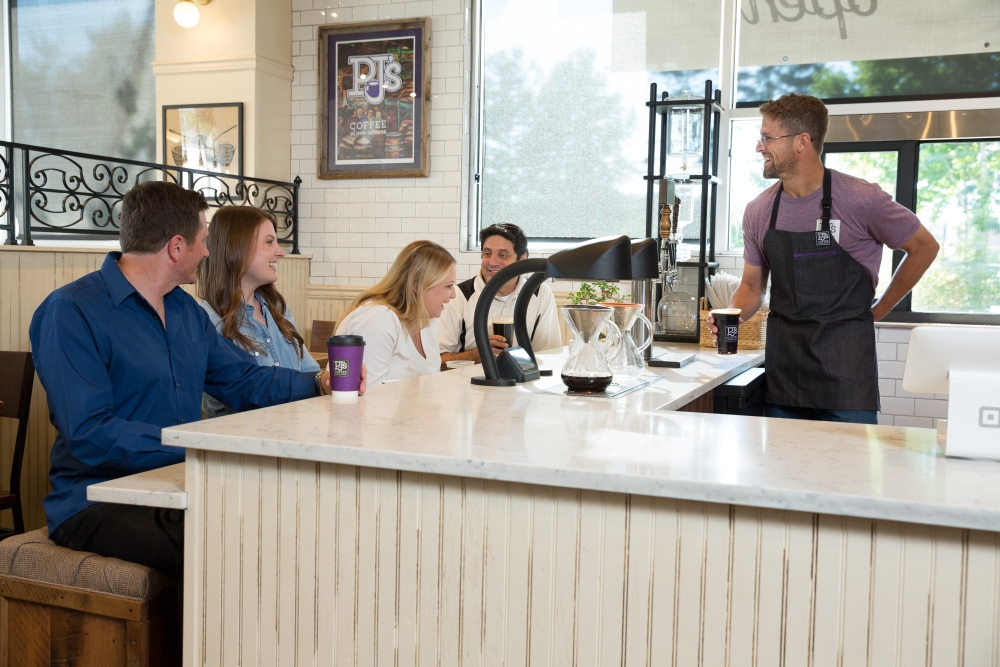 ​
"We've got some really good, strong people who have been with us for a number of years," said Tom. "Nurture your people, and take care of your people, so that you can build a strong support system."
Not only does nurturing their employees cultivate a reliable support system, it also creates a memorable brand culture and fun work environment for their employees.
"Many of our employees are college and high school kids, and we really try to build that family atmosphere with them," said Tom. "They're part of the family. I treat them like my own kids, and I expect them to respect me like my own kids respect me."
This family atmosphere is built into the culture of PJ's, with the original vision for the stores to serve as a "living room away from home." In fact, one manager has already shown interest in buying the store if Tom and Robin plan to sell it later on – just one of the many benefits of creating an inviting family atmosphere.
Are you interested in joining the PJ's Coffee family? Learn about PJ's Coffee franchise opportunities by downloading our franchise brochure today.