How This PJ's Franchisee Benefits From Non-traditional Locations
By: PJ's Coffee
Marc Robert III is not your average PJ's franchisee. He owns four PJ's Coffee locations, with a fifth in development, and all are non-traditional locations. Robert also owns Robért Fresh Market, home of his non-traditional PJ's Coffee locations, across the greater New Orleans area.
Franchising Expands Customer Flow
Robert ran six grocery stores pre-Katrina. The hurricane caused severe damage to his stores, causing them to close down. Once the locations were reopened, he considered how to expand the café within the store. He decided on PJ's Coffee and opened his first location six years ago.
"The programs associated with drink recipes, seasonal drinks, specials and standard operating procedures – all of those things that come with being part of a franchise – is something that we were really struggling with before," said Robert. "That's ultimately why we decided to get involved in the PJ's Coffee franchise."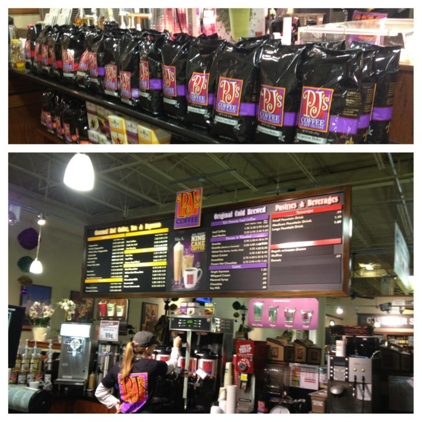 ​
Robert finds that his locations bring in a wide array of customers with a variety of purposes. The nearby schools bring in parents and students looking for breakfast on the way to school, and plenty of customers come to the grocery store just for coffee.
The PJ's Coffee locations are located near the entrance so it's the first and last thing customers see, choosing to have coffee while they shop or getting some after completing their trip. It's even an option to make grocery purchases at PJ's, creating a wonderful integration of PJ's Coffee into the grocery store, making it a one-stop-shop for all types of customers.
Giving Back​
Being involved in two community-based organizations doubles the opportunity to give back to the neighborhood. Robert participates in a wide variety of fundraising events. Recently, Robert volunteered both grocery and coffee products at the Taste at the Lake, raising $40,000 for the Lakeview Civic Association. Roberts' businesses are prevalent in Lakeview, a neighborhood that was badly damaged by Katrina.
Giving back is crucial for Robert. He especially loves how PJ's Coffee fits with this purpose.
"They're a local brand, family-owned and independent, just like us. They are really great partners for us and our brand identity," said Robert.
Awareness is Crucial for Non-Traditional
Robert is looking forward to opening his fifth PJ's Coffee and has advice for those considering opening their own coffee franchises in a non-traditional location.
"It's important to communicate that there is a PJ's Coffee within the store," said Robert. "Understand that there is going to be a different customer flow. Some people in my grocery store just want a quick coffee, and I provide that for that specific crowd."
He also stresses the value of your baristas. They are your greatest asset and Robert suggests putting particular importance on hiring and retaining the best.
PJ's Coffee works well in a variety of locations, sharing the "soul of coffee" with its customers. If you're interested in bringing the coffee franchise to your community, download our franchise brochure today.