Behind the Scenes with PJ's Coffee Interior Design
By: PJ's Coffee
PJ's Coffee first opened in 1978. In the nearly 40 years of operation, PJ's has continued to grow and update. Adding over 90 locations nationwide and constantly updating operations and drink menus, PJ's has experienced many variations. Since its inception, PJ's has had three remodels and will be undergoing their fourth this year with a new interior design and brand style.
Ryan Stansbury is the franchise development director and sees this rebrand as an opportunity for growth.
"This really helps us prepare for more growth," said Stansbury. "The new ubiquitous design will help with expanding domestic and international locations."
New Year, New Design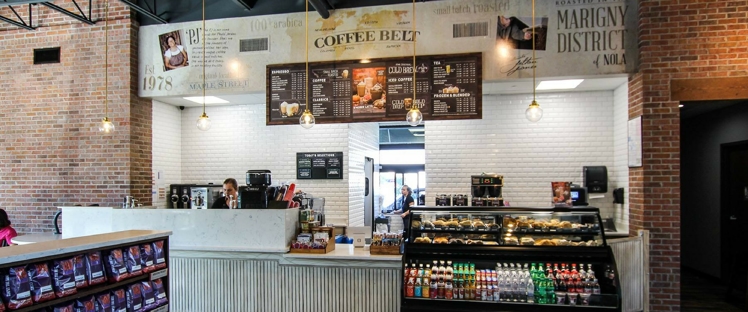 ​
PJ's has worked to create a new interior design to be integrated into all current and developing locations. The new design is modern while still showcasing the New Orleans classical style. They revamped everything from the lights to the paint color.
These changes will encourage guests to spend more time enjoying coffee rather than committing to a to-go cup. There are new seats and seating areas for guests. A fresh design will promote consistency across the brand allowing guests to feel at home no matter which PJ's Coffee they choose to visit.
PJ's Coffee has integrated the new design in two current stores, hoping to open and update the remaining locations over the next year.
From Style to Sales

​
The coffee franchise brand takes time to test any new additions, from new coffee blends to this new store design. With two open locations, PJ's has been able to see these changes in action.
"A physical change can lead to an emotional change," said Stansbury, "not just with customers but even baristas and other employees."
Both of the locations with the new design can be found in New Orleans, and have seen up to 26% increase in same-store sales. The new design works to bring in new customers and promote the classic PJ's Coffee experience.
Operational Success
During the redesign, it was crucial that operations were maintained.
"We didn't want to handicap or compromise operations. If anything some may be improved by this re-brand effort," said Stansbury.
PJ's Coffee redesign helps franchisees to engage with new customers and allows the franchise to reach new audiences across the world.
If you're interested in a franchise that continues to stay fresh download the PJ's Coffee franchise brochure today.