PJ's Franchisee Of The Year Shows That Passion Pays Off
By: PJ's Coffee
Amanda Bennett is always on the go. This week, she's running between her Hammond, Louisiana PJ's Coffee location and the Mardi Gras parades where she performs with her friends in a dance crew.
"It was super fun," she said. "The energy was just crazy."
Since moving back to the New Orleans area in 2015 after a stint in Florida, Amanda has needed crazy energy to keep up with her many pursuits. She ramped up her involvement at her coffee shop, and her sales increased 15 percent in just a year. She also became a licensed realtor. This year, she was named Rotarion of the Year by the Hammond Rotary Board.
Amanda is living proof that in life (and in franchising), you get out what you put in. PJ's Coffee is honored to recognize Amanda as our Franchisee of the Year.
Road to PJ's Coffee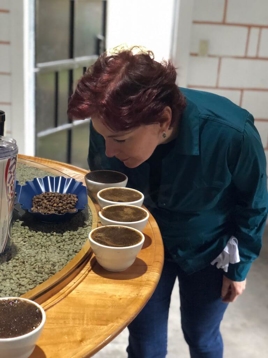 ​
Amanda's father worked for an oil company, so she grew up largely in Saudi Arabia. She couldn't work a normal summer job, so she and her friends started a homemade cheesecake business. That was her first experience with entrepreneurship.
She went on to receive her undergraduate degree from The University of North Carolina at Greensboro. She began as a music major studying vocal performance, but switched her major to anthropology. Although she doesn't have a typical business background, she believes her interests contribute to her strong analytical and people skills.
Amanda decided to open a PJ's franchise in 2007 after falling in love with PJ's products, particularly the mocha granita. She was passionate about coffee, and she'd already gained experience as a business owner by opening multiple tanning salons. She built a 3-unit space, where she opened a tanning salon, a Cold Stone Creamery and a PJ's Coffee.
Eventually, Amanda decided to focus her franchising efforts on PJ's alone. She loved the brand, the customers and the support from corporate.
"I can speak so highly of PJ's and the support I got from the franchisor," she said. "They were so involved and hands-on, I didn't really feel like I could achieve the same things with any other brand."
Back and Better Than Ever
When Amanda moved to Florida, she left her PJ's in the hands of a managing partner. When she came back in 2015, she was ready to take the reins and renew her commitment to her business.
She dove in head first. She came into the location every day, and she studied what other successful franchisees were doing to boost sales and build brand loyalty. Her zeal made a big difference, and the location has grown continually since her return.
As she fell back in love with her business, Amanda learned a few valuable lessons:

​Employees are everything – PJ's provides franchisees with high quality products, but it's up to owners to put together top-notch teams. Customer service is what keeps guests coming back, and team work is what keeps operations running smoothly. With this in mind, Amanda started hiring for personality, figuring she could teach skills along the way. Her instinct was correct, and she's built a high performing, close-knit staff.
"I think that seeing me become a leader gave them more ownership of the store. They stayed longer, they paid more attention. They find it easier to talk to me and come to me with issues because I'm in there all the time," Amanda said. "It's like a family now. And customers notice that, and then they want us to succeed."
It's critical to step out of your comfort zone – Amanda is a people person, and she used to avoid digging into her business's metrics. Now, she uses those numbers to optimize her profitability. She leaned into a task that intimidated her, and she's reaping the benefits.
"I'm becoming more comfortable with things I used to be afraid of," she said. "I'm growing a lot."
Finding the right franchise partner makes all the difference – She values PJ's commitment to listening to franchisees and implementing their feedback. She especially appreciates the training she's received on inventory management and cost control. PJ's cares about franchisees on a personal level, she said.
"PJ's calls us 'strategic partners' because it's a partnership. We have a voice. They're listening, and they're making it easier for me to run my business. When I decrease my cost of goods, that doesn't give them any more money. But they still help me do it. They care about us."
To learn more about franchising with a brand that prioritizes owners' success, fill out PJ's free franchise form.